Site-specific land art, Performance
Site-specific Art
2018 The Space80 _ Cotton Twine
Cotton Twine
The Space80 _ i-park
무명실, 돌멩이, 가변설치2018
i-park Artist in Residency Program 2018, CT. U.S.A.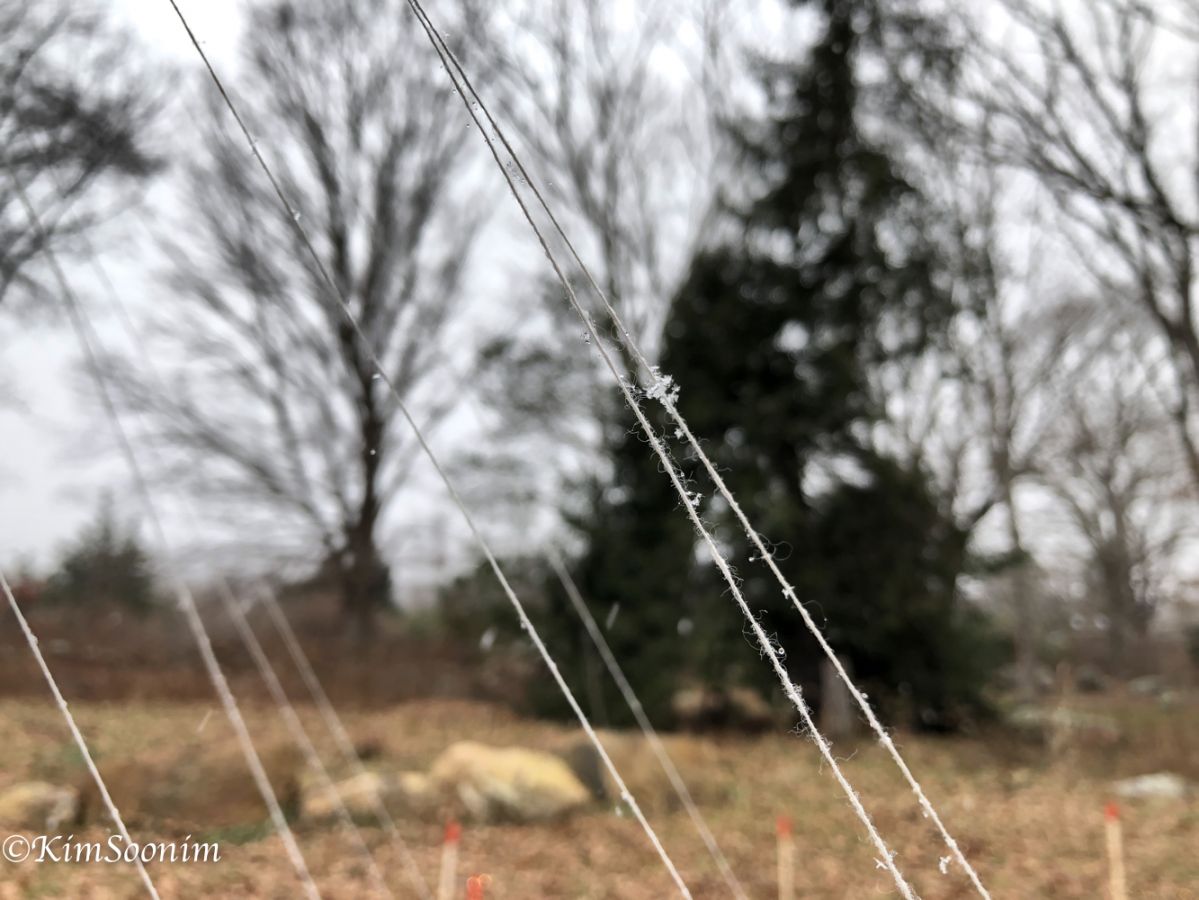 무명실의 꼬임, 하나의 실에서 12-21개의 작은 실이 나오고, 또 이 여러가닥으로 이루어진 실들은 높은 공간을 넘어 또 다시 하나의 실이 된다. 공간과 시간을 싸는 무명의 목화실들.
작업실의 왼쪽과 오른쪽을 무명실로 싸는 설치
실의 한쪽 끝을 쌀 돌을 이곳을 오래 지킨 돌로 하고 싶어 봐 둔 돌이 있었어요
산 길 쪽으로 조금 가다 보면 인디언 시절부터 있던 돌담의 흔적들이 흩어져 길가에 방치되어 있는데, 거기서 적당한 돌을 선택하고,
왠지 이 돌을 인부나 기구, 차로 급히 옮겨오는게 예의가 아닌것 같아서
작더라도 온힘다해 서로의 에너지를 주고 받으며 함께 이동하였습니다. (영상: 20181207돌 옮기기)
Cotton Twine
Twists of cotton thread. Twelve to twenty-one small strands can be pulled from one strand of thread. This thread that consists of many strands stretches beyond a space to become a unified strand once again. These strands of cotton thread encompass space and time.
The installation covers the right and left corners of the studio.
With the intention of covering one end of the thread with old stones found in this location, I kept an eye out for the perfect stone.
While slowly walking along the mountain path one day, I found traces of stone walls that had existed from precolonial times and were left scattered and neglected. It was there that I found the ideal stone. Somehow I felt that it wouldn't appropriate to quickly move it by hiring a laborer, equipment, or a car, so I did my best to carry it myself while exchanging energies.