The Space
Installation Art_ In Door
Oyster Land
Shelled oysters, wire, cotton threads,
variable installation on Gallery Nomad, Yeosu South Korea
2017
2016 인천 만석동 우리미술관에서 첫 발표후, 2017년 보수,
2017 인천문화재단 미술은행 소장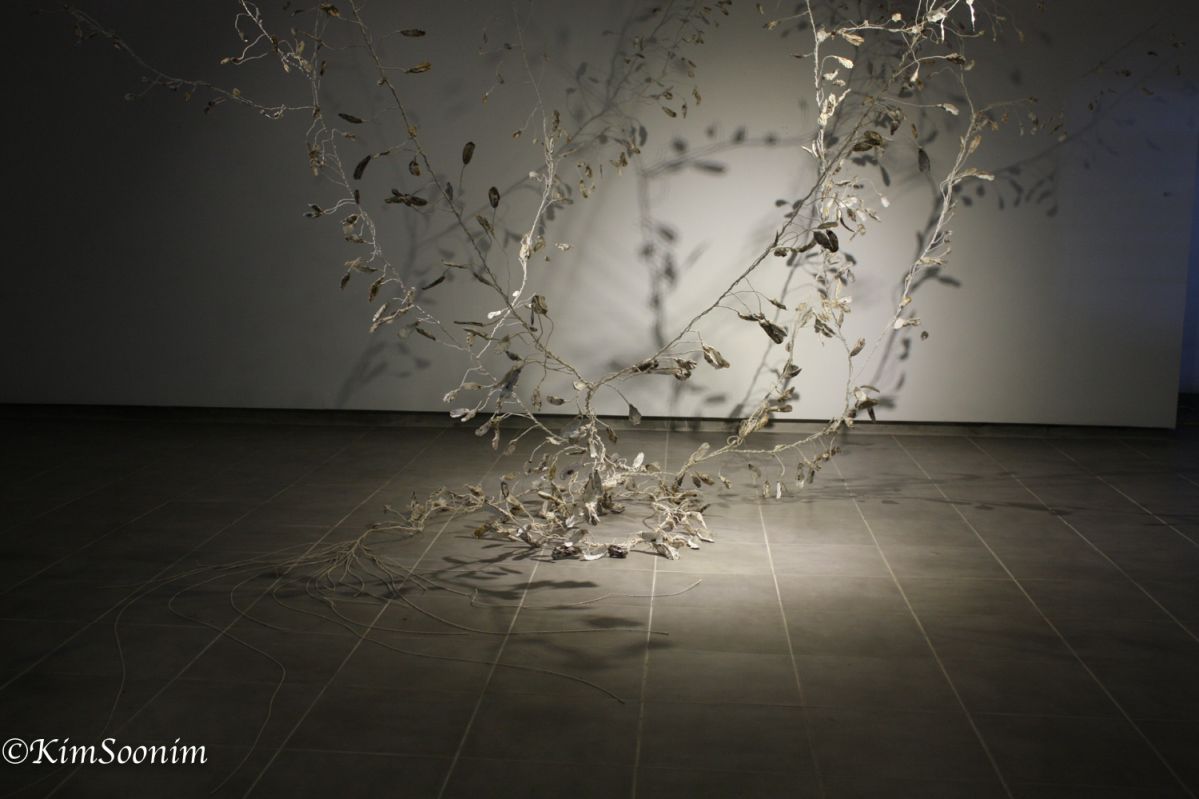 굴 땅
2017
만석동 굴껍질, 무명실, 와이어, 자석
가변설치 variable installation at Gallery Nomad Yeosu South Korea
2017 여수 갤러리 노마드 설치
굴 땅 _The Space69-만석동 인천
이곳 만석동은 해방후 몰려든 피난민들이 굴을 캐서 팔아 가족을 먹이고, 그 껍질로 땅을 메워 개간하여 터를 닦고 집을 지었다고 한다. 여전히 굴까는 사람들을 동네에서 만나고, 작은 것 하나도 버려지는 것 없는 이 마을에서 아주 드물게 작가가 얻어갈 수 있는 재료를 만났다. 폐기용 봉투에 쌓인 껍질은 뻘이 묻어 있고,냄새가 났지만, 새하얀 속 껍질이 우아하고 여린 꽃잎을 닮았다.
이 마을, 만석동,보이지 않는 땅 속에 쌓인,마을 사람들을 품은 이 노동의 흔적들을 이 땅에서 자라는 꿈 넝쿨로 표현하다. (2015 11/12 인천 만석동에서... 김순임)
Oyster Land ; The Space69-Manseok-dong, Incheon
Refugees who clustered together after liberation from Japanese colonial rule were known to feed their families by selling oysters they harvested and built their dwellings by reclaiming the ground with oyster shells.
I come across villagers who still engage in removing oyster shells and a few materials I can obtain in this village where nothing is abandoned, no matter how insignificant it is.
The shells put in a garbage bag smeared with mud smell disagreeable but the pure white inner shells bear a resemblance with graceful, tender petals.
The vines of dreams growing in the village are representations of the traces of labor layered in its invisible land and embracing the villagers.
- November 12, 2015, At Manseok-dong, Incheon
가변설치
천고2.6m이하의 공간, 바닥 넒이 3x5mx4m 설치공간소요 (작품보관상자: 70x60xH70cm)
무게 : 10Kg
2017 인천문화재단(인천미술활성화기획사업) 소장